Hubert Dupont & Jasmim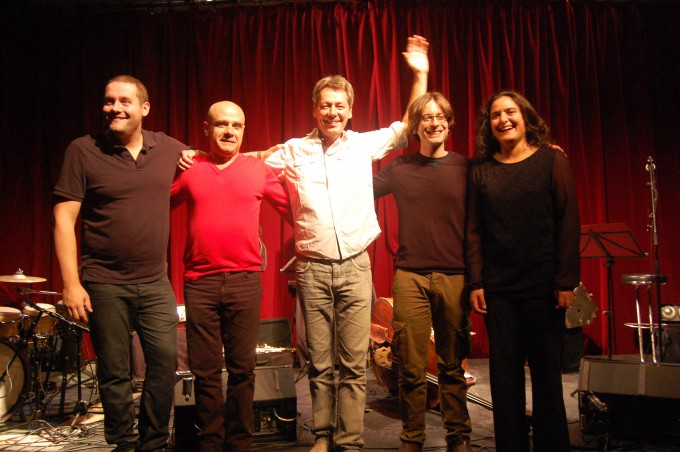 Denis Guivarc'h : alto sax // Youssef Hbeisch : riqq, darbouka, percussion // Hubert Dupont : double-bass // Nelson Veras : guitar // Naïssam Jalal : flute.
What does jazz music have to do with the so-called Jasmine Revolution in Arab countries a few years ago? The revolution in the Arab world, which received worldwide attention, was the inspiration for the Jasmim project, a musical idea by French artist Hubert Dupont.
Three years ago, watching TV reports of the unrests and hopes for the change in Tunisia and Egypt, Hubert had an idea for a new project. Jasmim is a group in which he brought together top musicians from different countries.
Currently members of the group include saxophonist Denis Guivarc'h well-known on the Parisian jazz scene, flutist Naïssam Jalal from Syria, Brazilian guitarist Nelson Veras and percussion virtuoso Youssef Hbeisch of Palestinian origin.
"Shining quintet, bubbling, rich musical universe. This is the music that opens up new territories", the French Jazz Magazine wrote. "Approachable, but creative music, strong but open compositions", the Free Jazz internet site noted.
The philosophical vision of Jasmim is a world in which the countries of the Mediterranean region live in peace and quiet and like twins find each other after a long break.
It will take a little more than the good wishes of excellent musicians for the countries of the Jasmine Revolution to settle down. However, this poetic mix of rhythms, sounds, ideas and ethnic colours is the best proof that revolutions, particularly in art, can create very beautiful things.
Stéphane Ollivier welcomed in Jazz Magazine "A rigorous and ultra-contemporary poetry and an absolute irresistible lyricism and swing" about his album with Rudresh Mahanthappa (Spider's Dance, 2007, ****Jazz Magazine).
PRESS
"Dupont works as a goldsmith on writing […] ; offers an interesting mix between the most diverse influences, spanning eras and continents with wonderful joy. "
Pierre Tenne , Djamlarevue.com, Juillet 2014

"Excellent rhythms creator"
"A sparking quintet"
"A personal rich universe, hybrid, shimmering"
"An obsessive lyricism directly inherited from Steve Coleman"
"This music […] opens up new territories"
Stéphane Ollivier, Jazz Magazine, n°654, Oct. 2013.
"Still on Jazz cross roads and creative musics, the composer and double-bassist presents Jasmim album. It is a dream about a reunited Mediterranean  by arabic revolutions. With the saxophone player Denis Guivarc'h, the guitar player Nelson Veras, the amazing percussion player Youssef Hbeisch and the powerful flutist Naissam Jalal." Anne Berthod – Télérama – Sortir, October 2013.
"An original and free music recorded in Live which fits its perfectly". Culturejazz.fr, October 2013.
"His music is accessible yet creative, with tight compositions yet open… with an elegant and refreshing result. Clearly a new voice and someone to follow." Free Jazz .