KARTET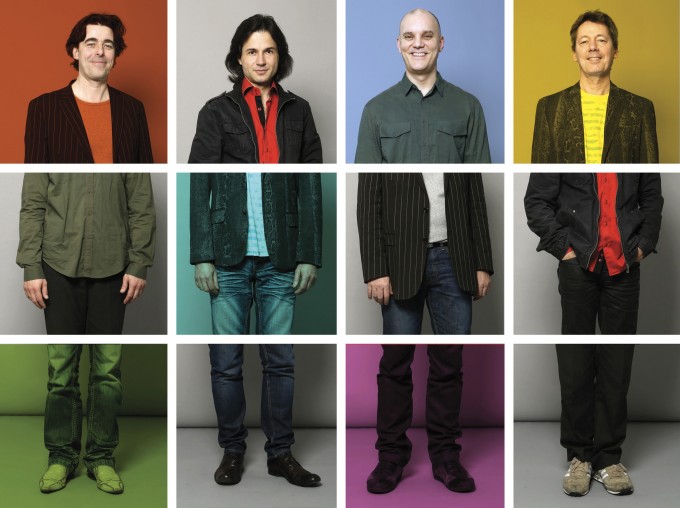 Benoît Delbecq : piano // Guillaume Orti : alto sax // Stéphane Galland : drums // Hubert Dupont : double-bass.
New album available : Grand Laps. Songlines, dist. Allegro Music. Video trailer
1st track : "Gazzell" (Hubert Dupont) :
Buy the album on Allegro Music.
"Kartet makes a deliberate and beautiful brand of inside-out jazz…decidedly unconventional yet not harsh or taxing on the ear…Kartet flows seamlessly in and out of improvisations, and its arranged material shows harmonic daring and imagination." – Will Layman, PopMatters
It's seven years since Kartet's last release (The Bay Window, Songlines), but then this is a group that's been pacing itself for the long haul. Celebrating its 25thanniversary in 2014, Kartet retains its unique sound and approach while introducing some new elements – Belgian drummer Stéphane Galland (Aka Moon) replaces Chander Sardjoe, and C-Melody and F mezzo-soprano saxes supplement Guillaume Orti's alto sax. The album title by the way is a bi-lingual pun: in French, grands laps means "a long while". And the band's name? According to (prepared) pianist/recording supervisor Delbecq, "The letter K was a nod to Eastern European cultures and of course to Bela Bartok and his extraordinary imaginary folklore researches."
What makes Kartet special has perhaps best been expressed by the French critic Stéphane Ollivier: "…music in continuous metamorphosis as it pivots around the four players, and results in many simultaneous and complementary points of view on the same reality…a music which reconciles intellect and intuition as it combines a quasi-mathematical rigour with a sensitivity, an instrumental originality, and an attention to detail forged by the supreme exercise of total improvisation." Hubert Dupont explains how the group develops new pieces: "The improvisations are very connected to the written material indeed, which is quite dense most of the time, with rhythmic games, melodic rules, colours, etc. It's just jazz! New compositions hopefully sound good and allow for all kinds of atmospheres, but they [also] contain the rules of the game for the collective improvisation. To make a good piece, the rules should be simple enough, but somehow different. We enjoy playgrounds, frames, in order to spontaneously organize together tension / resolution movements, suspended colours, illusions… it's a very funny game, with different results every time, it's exciting…We definitely remain surprising for each other – the suspense never ends, like, "What is he gonna do after THAT?"
PRESS
"A spellbinding voyage", All about Jazz. Read the article.

"Melody and rythm… The perfect storm.", Critical Jazz. Read the article.

"Kartet is at the heart of today modernity and will count for the Jazz of  tomorrow", Jazz Magazine.
« …this quiet record is loaded with new-sounding purpose. The music is tense, detailed and well practiced […] This is a great quartet with a well defined sound. […] It's music that believes in itself, full of icy, beneficial tension. » Ben Ratliff, New York Times, 2007...
5th Kartet's album : The Bay Window (Songlines / Allegro Music, 2007)