Hubert Dupont Smart grid
Dupont T reinvents itself and presents SMART GRID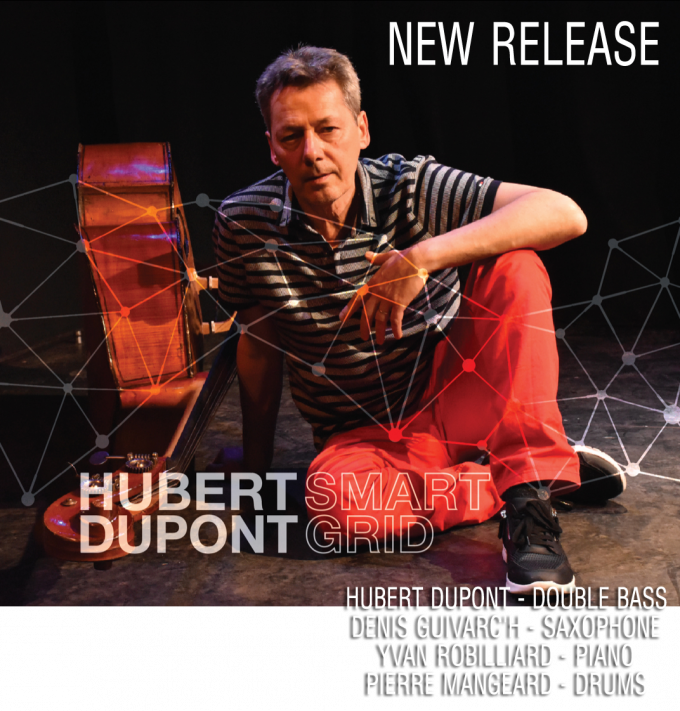 « Smart Grid » or management of flows in a living body, an ideal social body, interconnected machines…
Metaphor of a jazz group and of the development of its music, it's also, in the jargon, a form on which we improvise : a field with rules available for the musicians to develop together spontaneous compositions, rich in rebounds, winks, colors, contrasts.
All this to create, produce, travel, share, surprise …
Environmentalists, as energy companies, are already working on the smart grid energy: its production, everywhere depending on the available renewable resources, its instantaneous or deferred distribution; the ability of each to be alternately consumer and producer of energy and information …
All this to create, produce, travel, share, surprise …
Dupont T reinvents itself and presents Smart Grid.
Initiated in 2007 with Rudresh Mahanthappa (album "Spider's Dance"), this quartet with classical instrumentation but original colors, was noticed during its tour in the US and Canada, but also by Nate Chinen from the New York Times, or by Stéphane Ollivier from Jazz Mag :
"Dupont manages to marry a formal, demanding  and ultra contemporary poetry, with a lyricism and an absolutely irresistible swing. "
PRESS QUOTES

"Dupont's Smart Grid provides fascinating interplay over angular and abstract compositions. The music has twists and turns, sculpting an urban landscape in which one is never sure what's ahead. "
Karl Ackermann, All about jazz. Article

"A demanding and rich jazz that (without stopping) strikes. "
Pierre Tenne – Jazz News.
"An incisive and spirited music that feeds itself fully of the strength of the concert's audience. "
Claude Loxhay – Jazz'Halo (Belgium).
"Surrounded by talented musicians, he [Dupont] offers an unconventional program full of surprises. "
Radovan Baláž – Jazz SK (Slovakia).
"His enthusiasm for jazz transcends the listener and the enchantment. "
Joachim Holzt-Edelhagen – Die digital Jazz-Zeitung (Germany).
"By this live recorded testimony, a phenomenon of great magnitude is confirmed : the persistence in France of a large number of very high-level double bassists "
Joël Pailhé, Citizenjazz.

« Dupont reminds listeners that, first and foremost, he is an improvisor »
Karl Ackermann, All about jazz. Article